Catalogue Page 8 - Steam Engines - Locomotives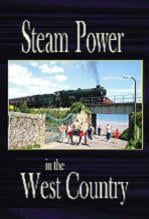 Steam Power in the West Country - GVF106
Be transported back to a time when Steam haulage was the rage in this spectacular hour long DVD, packed with both nostalgic and breathtaking scenes. Filmed throughout 1997 & 1998, this includes steam footage at Penzance, Okehampton, and the Newquay and Falmouth branches in Cornwall.

On the preserved scene we visit the Bodmin & Wenford, South Devon Railway, Swanage, Paignton & Dartmouth and the narrow gauge railway at Launceston for their steam gala.

Locos featured on this programme are; 1369, 1450, 1501, 3205, 4555, 4561, 4920, 5239, 6024, 6412, 6435, 7029, 7325, 7760, 7821, 7828, 30053, 30828, 34027, 34072, 41708, 42968, 45110, 48773, 68011, 73096, 80104.
Released July 1998. Full colour, detailed captions. Digitally edited. Stereo reproduction. Duration 60 mins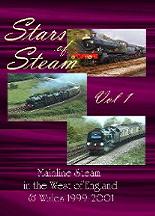 Stars of Steam - Volume 1 Code: GVF116
Mainline Steam in the West of England and Wales 1999 – 2001
The highlights of 3 years of mainline steam action in the West Country and Wales. Many famous locomotives appear inc. 4936, 5029, 6024, 7802, 9600, 34016, 35005, 35028, 45110, 45407, 46233, 4472, 60532, 60800, 76079, 80079, 80098. With scenes ranging from locations as far apart as Cornwall, Hampshire and Anglesey, this programme captures both famous scenery and marvellous action.

Comments from popular rail magazines:
Heritage Railway: A high quality video
Full colour, captions & informative commentary. Duration 67 mins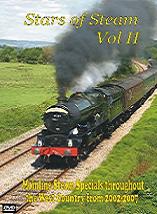 Stars of Steam - Volume 2 Code: GVF138
Mainline steam filmed on the West Country from 2002 to the end of 2007.
The best of action from the best locations. Just some of the locomotives appearing include:
3440, 4936, 4965, 5029, 5051, 777, 850, 6024, 7802, 46201, 46233, 34067, 45407, 60009, 71000, 73096, 76079. Whether sauntering down the Cornish branch lines, or stupendous assaults on the famous Devon banks, this film has the lot!

Comments from popular rail magazines
Rail: Top-notch programme with quality material
Full colour, captions & informative commentary. Duration 90 minutes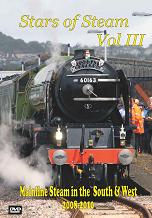 Stars of Steam - Volume 3 Code: GVF150
Volume 3 in our popular mainline steam programmes continues directly from where we left off at the end of volume 2, thus taking us right through from 2008 to the end of 2010.
As always, we feature tours predominately in the South & West of the Country, but this time venture as far afield as Hampshire, the Cambrian Coast and Conwy Valley line.
Locomotives appearing include 4936, 5029, 5043, 6024, 9466, 30777, 34067, 44871, 44932, 45407, 46115, 48151, 60019, 60163, 70013 & 71000, many at various locations.
Full colour, captions & informative commentary. Duration 83 minutes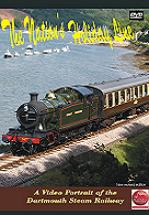 The Nations Holiday Line DVD Code GVF157
A remake of the 1997 programme of the same name, containing all new digitally filmed footage. This programme, made with the assistance of the Railway, looks not only at day-to-day workings, but also at special trains arriving off the mainline.
See behind the scenes with views inside the workshops at Paignton and Churston, including the arduous task of steam locomotive preparation.
Full colour, captions & informative commentary. Duration 78 minutes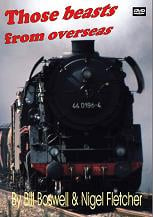 Those Beasts from Overseas DVD Code ZFD300
"Those Beasts from Overseas" is a study of some of the last steam trains to run on revenue earning services in Europe. Our programme covers West Germany, East Germany and Poland in the last quarter of the twentieth century, and features mainline steam at its best.
Captions with commentary. Duration 51 minutes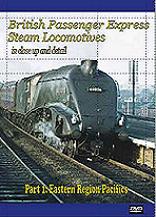 British Passenger Express Steam Locomotives Part 1 EASTERN REGION PACIFICS

The first in this series concentrates on the old LNER, which after 1948 became the Eastern Region of British Railways. Rare photographs and cine material illustrate many of the A1, A2, A3 & A4 locomotives that performed on the day to day duties. Interviews with Peter Townsend, ex shedmaster at Kings Cross depot, and some of the drivers from that era add to a fascinating programme.
Archive cine film and photography. Duration 56 minutes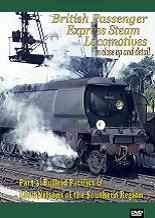 British Passenger Express Steam Locomotives Part 3 SOUTHERN REGION LOCOMOTIVES
An in-depth look at not only the famous Bulleid Pacifics, but also the Maunsell Lord Nelsons of the Southern Region

We continue the series in the same vein as Volume 1, this time looking at the large class 7P and 8P locomotives of the London Midland Region



Archive cine film and photographs. Duration 56 minutes