British Passenger Express Steam Locomotives - Part 2 - London Midland Region - Railway DVD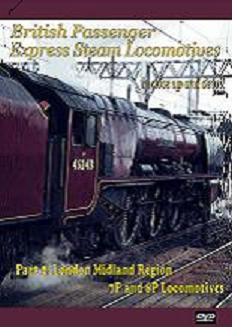 Using rare archive still photographs and cine film footage from the 1960s, this is one of a series of programmes looking back at the heyday of British Steam.

With narration by Nigel Fletcher, part 2 looks at the Patriot, Royal Scot, Princess & Duchess class locomotives of the London Midland Region.
Duration approx 56 mins - or to buy the complete set of four DVDs for £50 - click here
Volume 1 in the series (ZRD321 Eastern Region Pacifics) was reviewed by The Railway Magazine February 2011
"This disc effectively provides two programmes for the price of one. Visually, it takes the form of still photographs and a brief description of a large proportion of the ex-LNER Pacific fleet. Aurally, it provides fascinating interviews with ex-Kings Cross shedmaster Peter Townend and other steam age characters including Richard Hardy, interspersed with a sizeable number of rare colour film sequences depicting members of the classes A1 to A4.
This DVD is a useful record put together with obvious feeling by the compilers."