The Diesel & Electric Diaries Volume 6 - Railway DVD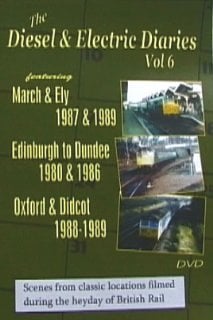 This series of programmes will take us to classic stations, depots and other railway locations around Britain, where the locomotives, liveries and rolling stock are from an era that is now long gone.

Loco-hauled passenger and freight trains are in abundance, but we will see shunters and multiple units as well.

Volume 6 in the series of programmes looks at three locations.

Chapter 1: March & Ely in 1987 and 1989.
The freight centre of March still saw much traffic in the late 1980s, with class 31s, 37s & 47s in charge of most services.
Passenger trains are mostly in the hands of Class 31s and 47s.

The array of liveries varies from BR blue to a variety railfreight liveries and NSE Class 47s.


Chapter 2: Edinburgh to Dundee 1980 & 1986.
By 1986 the days of loco-hauled trains on the 'Dundees' were coming to an end, so savour the sight and sound of 27s, 47s and even a class 26 in this splendid compilation.
We then step back to 1980 to see rare cine film from that period at Edinburgh and Haymarket as Deltics, 40s, 26s and class 26s are seen.


Chapter 3: Oxford and Didcot 1988 & 1989.
Naturally, 47s and 50s are the staple motive power but 'Cromptons' 37s and 31s turn up as well. Liveries of course are from that period.
Full captions with commentary. Duration 63 mins.

£16.95 or save over £40! with our special price of £95 for all eight in the series - please telephone our office on 01803 431 831 to take up this special offer.


What the Press say about the Diesel& Electric Diary series ......
'Priceless video material ... recommended, and especially good value at £16.95 each' - Rail Express November 2008
£16.95 inc p&p
Preview on YouTube at: