The Diesel & Electric Diaries Volume 4 - Railway DVD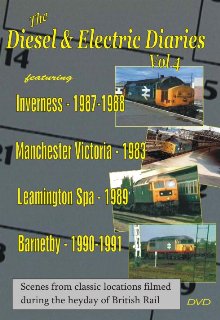 This series of programmes will take us to classic stations, depots and other railway locations around Britain, where the locomotives, liveries and rolling stock are from an era that is now long gone.

Loco-hauled passenger and freight trains are in abundance, but we will see shunters and multiple units as well.

Volume 4 in the series of programmes looks at four locations.

Chapter 1: Inverness station in the years 1987 & 1988.
Passenger trains are in the hands of Class 47s and 37s but 20s and 26s are still occasional visitors to the Highland Capital.

Chapter 2: Manchester Victoria in 1983 & 1984
Absolutely classic scenes from Manchester Victoria in these two years sees classes 25, 31, 40, 45, 46, 47, 56, and even an 87 making an appearance

Chapter 3: Leamington Spa in 1989
Naturally, 47s are the staple motive power on the passenger turns but not solely as you will see.
Freights range from BR blue 47s to 56s and even class 20s

Chapter 4: Barnetby 1990 & 1991.
Back in the early '90s, motive power wasn't so predictable; hence we see 20s, 31s, 47s, 56s and 60s which are just appearing on the scene.
Liveries of course are from that period.

Full captions with commentary. Duration 61 mins.

£16.95 or save over £40! with our special price of £95 for all eight in the series - please telephone our office on 01803 431 831 to take up this special offer.


What the Press say about the Diesel& Electric Diary series ......
'Priceless video material ... recommended, and especially good value at £16.95 each' - Rail Express November 2008
Sample on YouTube
£16.95 inc p&p