The Diesel & Electric Diaries Volume 1 - Railway DVD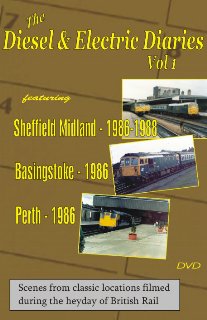 This series of programmes will take us to classic stations, depots and other railway locations around Britain, where the locomotives, liveries and rolling stock are from an era that is now long gone.

Loco-hauled passenger and freight trains are in abundance, but we will see shunters and multiple units as well.

Volume 1 in the series of programmes looks at three locations.

Chapter 1: Sheffield Midland station in the three years 1986, 1987 & 1988.
Passenger trains are in the hands of Peaks, 47s and 31s but 20s and even a 25 are seen on class 1 passenger duties.
Freights and parcels traffic are also seen, with classes 45/0 & 47 in evidence.
Also seen is the 'Hills & Cities No 2' railtour of 6 June 1987 where 45029 hands over to 45062 for the run back to Euston.


Chapter 2: We drop a few hundred miles South now to Basingstoke in 1986 - Wednesday 20th August 1986 to be precise.
Here we see 50s on the Exeter trains and 33s on the Salisbury's, but freights also abound with 33s & 47s and there is even a 33+73+33 triple header on a TC set!


Chapter 3: North of the border now to Perth to see 20s, 26s, 27s, 37s & 47s in action on passenger & freight.
Ex-works 26025 is seen illustrating the new railfreight grey livery.
As a bonus we drop down to Dunblane, Stirling & Larbert to view proceedings which include a 37 substituting for a class 27 failure.

Full captions with commentary. Duration 65 mins.

£16.95 or Save over £40! with our special price of £95 for all eight in the series - please telephone our office on 01803 431 831 to take up this special offer.

What the Press say about the Diesel& Electric Diary series ......
'Priceless video material ... recommended, and especially good value at £16.95 each' - Rail Express November 2008

This is the first in a nostalgia-packed series of DVDs filmed during the heyday of British Rail. The programmes will bring spotters notebooks back to life as we are whipped back to happier times when loco-hauled trains featured a variety of diesel classes at the front with first generation units on supporting services (including that chocolate & cream 117 set!).
In this first of the series, we see a variety of 'Peaks' at Sheffield and it's hard enough now to consider there could be a Harwich-Blackpool through service, let alone that it would have a Brush type 2 or type 4 at the head, or even a chattering class 25!
There are some impressive cross-country services seen in the first volume not just passenger turns but also parcels traffic from the North-East to the South-West.
Peak Forest freight trains are seen trundling through Sheffield station, a 47 rescues a failed HST, a single 20 delivers a failed 31 and takes away another to Tinsley – what a fascinating time it was.
Of course it was different again on Summer Saturdays when a pair of 20s would whistle in on a Skegness service or class 45/0s on a railtour.
At Basingstoke, the action naturally includes Cromptons, while in and around Perth we see classes 26 & 27 in their element.
The writing was already on the wall for many of the loco types to be found on these excellent compilations, but this is a great way to enjoy their company once more.

David Brown, editor Traction Feb 2009 issue
Sample on YouTube
£16.95 inc p&p