The Branchlines of Britain - Volume 9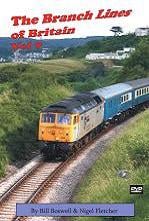 ZRD309 THE BRANCH LINES OF BRITAIN VOL 9
This is the final programme in the series of nine, running time approx 55 mins.
The Branch Lines of Britain series
Each volume features Britain's railway branch lines, many lost forever. Filmed from the late 1980s into the 1990s, motive power ranges from Class 03 & 08 shunters right up to type 5 diesels such as Class 56 & 58.

Routes Featured – Vol 9
Coventry Colliery Branch
Bearley Jct
Birmnigham Moor St
Pembroke Docks Branch
Glendon Jct (Corby Branch)
Oxford- Bicester
Buxton passenger branch
Kenilworth
Tube works branch (Chesterfield)
Birkenhead Docks
Stocksbridge
Aberdeen Waterloo branch
Newquay & Fowey branches
Manisty Wharf branch
Hallen Marsh
Middleton Towers
Castle Gresley/Bagworth
Alloa branch
North Woolwich
Barnstaple/Meldon branch
Llandudno
Frodsham Jct-Halton Jct
Brundall
St Philip's Marsh
Nuneaton avoiding line
Warrington Arpley Jct
Peak Forest & Chapel en le Frith

Running time approx 55 minutes




Mixed Diesel Types DVDs Home