Changing Trains Volume 1- Bristol to Weymouth - Railway DVD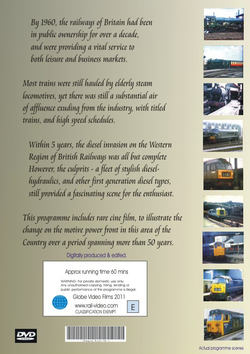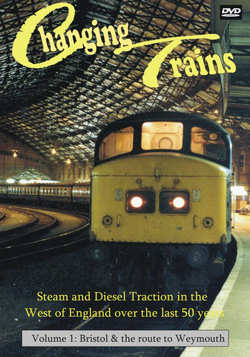 £17.95

Changing Trains Vol 1 - Bristol and the route to Weymouth.
In 1960 many trains on the Western Region were still hauled by elderly steam locomotives, though titled trains and high speed schedules were still commonplace.
Within 5 years, the diesel invasion was all but complete. However, the culprits - a fleet of stylish diesel-hydraulics, and other first generation diesel types, still provided a fascinating scene for the enthusiast.
This programme includes rare cine film to illustrate the change on the motive power front in this area of the country over a period spanning more than 50 years.
Volume 1 in the series looks at the area around Bristol, including the routes to Stoke Gifford, the Severn tunnel, and the western approach through Bedminster.
We then follow the route to Bath, with a break to see steam on the S&D at Green Park, Midford, Radstock, and other locations, together with a Class 22 diesel at Shillingstone. Then onto Westbury, Castle Cary, Yeovil and finally Weymouth, including scenes filmed on the Weymouth Quay branch.
The programme includes a variety of ex-GWR steam types such as Castles, Granges, Kings, Counties & Halls, plus various others such as Britannias, West Country, classes 3MT, 4F, 7F and 9F etc.
And for the diesel fans - see the early Diesel-hydraulics at the new Bath Road depot together with Peaks, Sulzer type 2s, Brush type 4s. The Royal Train at Temple Meads hauled by class 31s, Metro Cammells' famous Bristol Pullman train and the prototype HST in action.
A Peak diesel and class 5 4-6-0 at Mangotsfield.
Class 31s, 33s & 37s on the Weymouth route, with the latter also seen on aggregate traffic.
A Warship & Hall combination at Westbury, and prototype D0226 passing Bath on a goods train in 1960.
Of added interest is the comparison in the railway infrastructure in this 50 year period, with contemporary views showing the scenes as they are now.
Steam / diesel mix approx 40 / 60
Running time aprox 60 mins
£17.95 inc p&p
What the press say ...
"You are in for a treat with this highly nostalgic DVD. Using much cine film from the 1960s & 1970s, together with modern video equipment, this oozes atmosphere as it shows the transition from steam to diesel in and around Bristol and along the route in question.
From 'Castles', 'Halls' and 'Britannias' from the steam era, there is a feast of hydraulic types - 'Warships' and 'Westerns', together with the early BR diesels, including 'Peaks' and Sulzer type 2s and type 4s, as well as the Met-Camm Bristol Pullman in action.
A slight deviation to the famed Somerset & Dorset line in the early 1960s shows long-lost scenes of holiday trains at speed with 9Fs, 4Fs, Bulleids and Standard Class 5s, plus a speeding Class 22 at Shillingstone.
A pertinent reminder of the Weymouth Quay line shows yet another lamented scene now consigned to history.
This is most enjoyable entertainment and is recommended.
Murray Brown, Editor, Rail Express.
See sample on Youtube
http://www.youtube.com/watch?v=Lj0D5Ydc8-I

This is the first in a five part series which will form a definitive DVD collection illustrating more than half a decade of change on this western peninsula.
Part 1: Bristol and the route to Weymouth
Part 2: Bristol to Exeter
Part 3: Basingstoke to Ilfracombe & Torrington
Part 4: Exeter to Plymouth
Part 5: Plymouth to Penzance
Mixed Steam & Diesel
DVDs
Home